Raising awareness of the early signs of Alcohol Use Disorder
In our Brand Experience class, we were asked to create a social good campaign on a topic of our choice.
Alcohol Use Disorder is a medical condition affecting over 15 million Americans characterized by an impaired ability to stop or control alcohol use.

Alcohol Use Disorder is a progressive disease. The early stage (prodromal) of AUD is characterized by regular binge drinking, drinking to the point of blacking out, and difficulty controlling the amount of alcohol consumed. We chose to focus on this stage because it is a crucial point to make changes before the disorder progresses further to the point that quitting may require medical interventions.


"We are not born alcohol abusers but we can practice really hard and become one. Physical addiction takes a lot of practicing to finally take hold. Until that point you'll continue to spend years placating your worry about your drinking with the fall back reassurance of 'I can stop anytime I want'. Until there comes a day that you can't. That day happens sooner or later if we continue to drink. I wish I could have avoided years of asking myself that question if I only had listened to my gut the first time I sent a text or called someone blackout drunk..."

- Anonymous poster in r/alcoholsm, in response to someone experiencing symtoms of early AUD asking if they should seek help.
Raise awareness of the signs of early stage Alcohol Use Disorder, and promote lifestyle changes.


Target Audience:

The Mid-Twenties Alcohol Enthusiast

They enjoy drinking alcohol and picked up unhealthy drinking habits during undergrad. They don't think about drinking as a problem and love social outings with alcohol. Now is a pivotal time in their life when they're trying to "adult" and may be usure about their futures.


Binge drinking is normalized in American culture to the point that symptoms of early AUD may not be seen as an issue.

How can we get our target audience to seriously consider their behavior without turning them away?


An issue our audience is open to discussing is romantic relationships, the ups and downs, what they learned, and red flags to look out for.


Red flags are visible in all relationships.
Pay better attention to your relationship with alcohol.

Campaign Partner:

Moderation Management


To provide more resources and support for our target audience we chose Moderation Management as a sponsor of our campaign.

Moderation Management is a behavioral change program and national support group network for people concerned about their drinking who desire to make positive lifestyle changes. MM promotes early self-recognition of risky drinking behavior, when moderate drinking may be an achievable goal.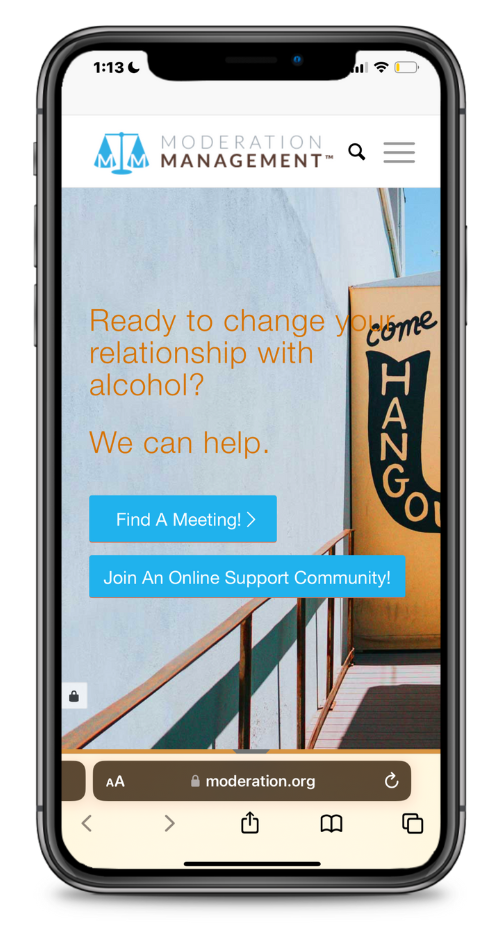 OOH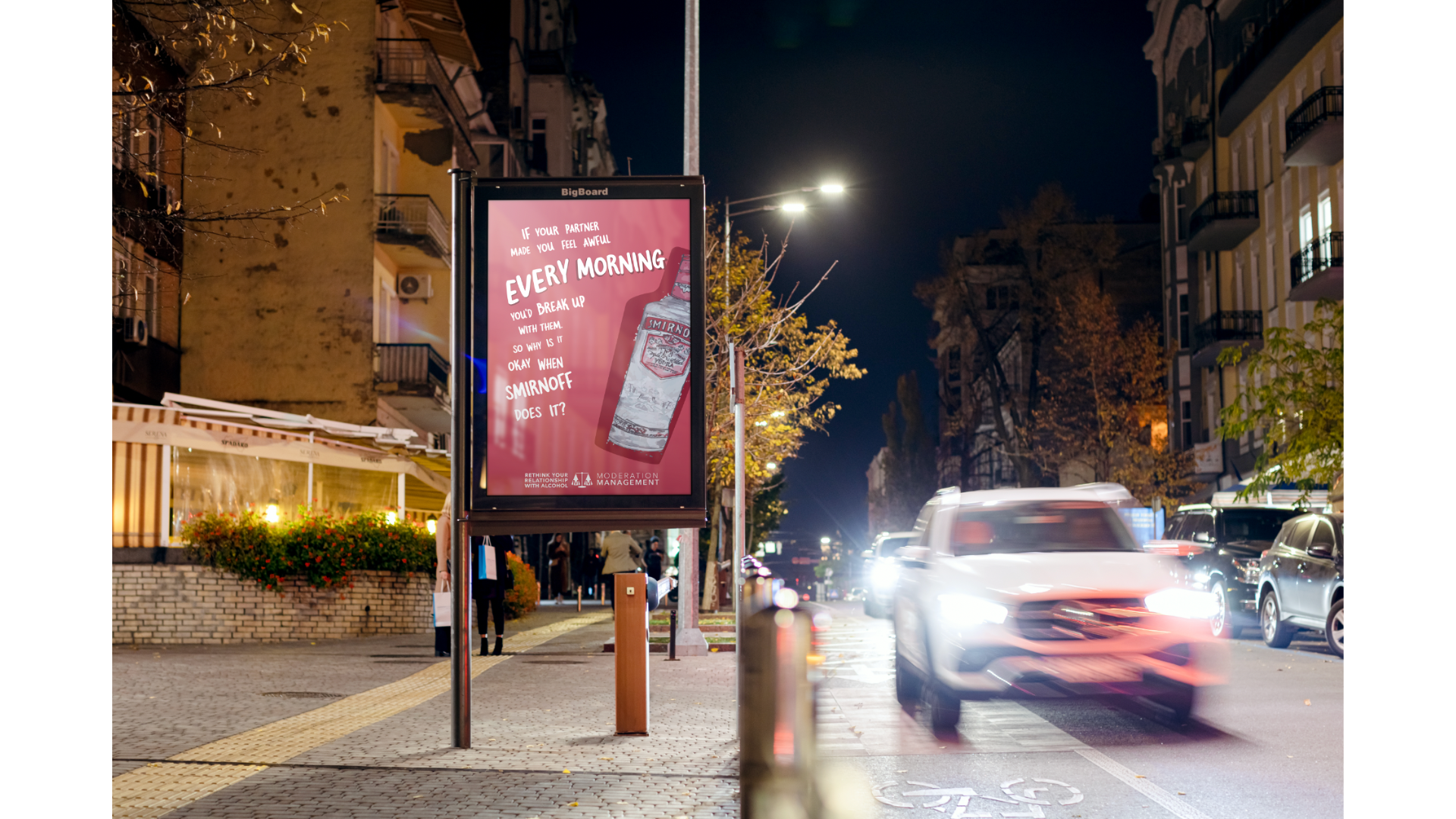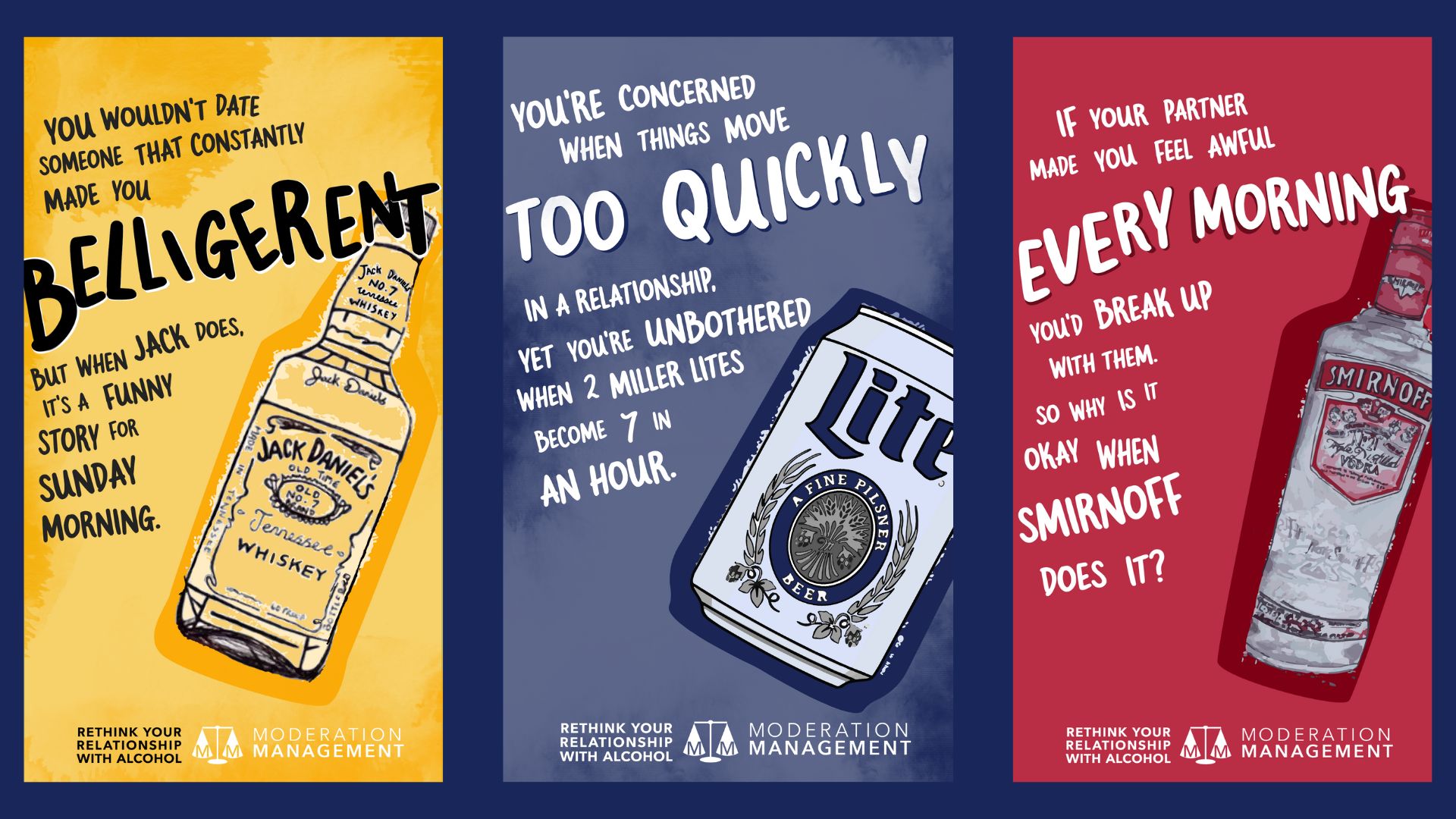 Some of our OOH are placed in high-traffic areas others are placed where people might be experiencing the negative effects of binge drinking, such as in the back of ride-share vehicles, the Pedialyte section of a store, or in bar bathrooms.
Tinder Partnership


To take our campaign to a place where many relationships begin, we wanted to partner with Tinder to show sponsored profiles from the perspective of alcohol to someone who is in the early stage of AUD. You wouldn't swipe right on a person with these traits, so why accept them in your relationship with alcohol?
Infiltrating Reddit
To further the personification, we wanted to take our persona to threads like r/AmItheAsshole, where people could weigh in to decide, "if a person brought out the worst in you, would you stay in a relationship with them?"
Break Up Boxes


The final element of our campaign was our break up boxes. We encouraged people who wanted to change their relationship with alcohol to bring in a box of anything they wanted to get rid of and in exchange, they would receive a pint of Ben & Jerry's to help them through their breakup and a resource card connecting them to Moderation Management and other local resource centers.

Takeaway:

"A true alcoholic is someone who's turned from a cucumber to a pickle; you can try to stop a cucumber from turning into a pickle, but there's no way you can turn a pickle back into a cucumber." - A popular saying used in Alcoholics Anonymous
We realize that alcohol abuse is a complex large-scale problem that a single campaign can't solve. We just hope that through our campaign we would be able to convince people who are experiencing early alcohol use disorder to form healthier drinking habits and seek help sooner rather than later.
My Role


Secondary Research
Social Listening
Interviews
Strategic Development
Comms Planning
Deck Flow + Presentation
The Team

Jordan Bryant | Strategist
Vivian Tran | Creative Brand Manager
Jaclyn Delso | Art Director
Cameron Sharer | Copywriter
Miles Hanson | Copywriter
Jamie Ikley | Experience Designer